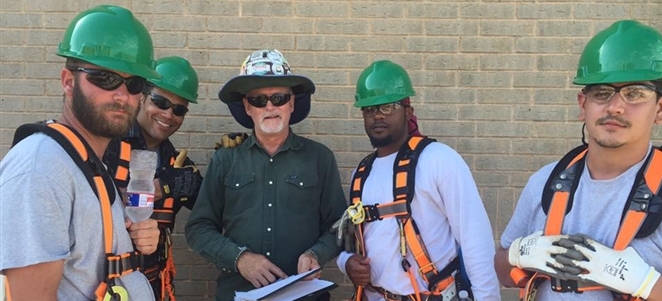 Earn and Learn Apprenticeship for Veterans
As a service-disabled veteran-owned enterprise, Adaptive Construction Solutions (ACS) is keenly aware of the employment challenges facing veterans. The Houston-based firm teams with Workforce Solutions and a consortium of companies across the state to recruit, train, and place veterans into stable, skilled professions that provide job security to them and their families.
Workforce Solutions together with the Gulf Coast Workforce Board are the public workforce system for the Houston-Galveston region of Texas. Workforce Solutions helps employers develop apprenticeship models that support employee recruitment, retention and highly customized training.
As paid employees from the first day of training, these future highly-skilled professionals "earn while they learn." Additionally, veterans enrolled in approved apprenticeships are also eligible for additional financial aid through the G.I. Bill.
One of the centerpieces of the ACS consortium's work is its ironwork apprenticeship program. ACS' program is tailored to help veterans build strong professional skills and provide support for their personal needs. Apprentices are given clear career paths to become journey-level ironworkers by undertaking an intensive training curriculum through the National Center for Construction Education and Research (NCCER). Once completed, the veteran continues their apprenticeship with additional on-the-job learning and performance evaluations with accommodations for VA appointments and training schedules for reservists and guardsmen.
The five companies which make up the ACS consortium have hired 164 veterans over a one-year period ending March 31, 2017. Since the consortium began, Empire Steel of Humble, Texas has hired 133 veterans who now make up 32% of the company's workforce; approximately 12% of employees at Longview, Texas-based DEEM Structural Steel are veterans; they represent 5% of the workforce at Steel Masters of Houston; Porter, Texas-based Steelco has hired eight veterans or about 3% of the company's total employment; and Buckner Companies has so far hired two to its 100-person staff in Texas.
In addition to full-time employment, veterans participate in the ACS affinity group which offers monthly social events and accessing to peer-to-peer counseling and supportive services. These peer-to-peer programs are key to assisting veterans struggling with the service-related challenges of transitioning to civilian life. Many also help provide significant relief to communities impacted by natural disasters. In 2016, 25 veterans assisted in flood relief in Baton Rouge, LA and provided over 5,000 meals in Holly Hill, SC in response to Hurricane Matthew. These response projects provide a critical mission and goal that veteran employees find especially important and engaging.
A recent survey by Workforce Solutions of Texas Gulf Coast employers found overwhelming support for registered apprenticeship programs and say it helps them retain highly-skilled workers.
Nearly all believe other companies would benefit as much as they have by developing their own program. "Apprenticeships are a great way to develop a pipeline of talented, high-skilled workers to help businesses grow, "said John Juzswik, President of Building Specialties, Inc. "When you invest in the training of your employees, they will be more committed to the success of your business. This will help to lessen turnover, decrease recruitment costs and increase productivity."
The survey also found that on average, apprentices trained employees stayed with their companies for six to ten years or more.