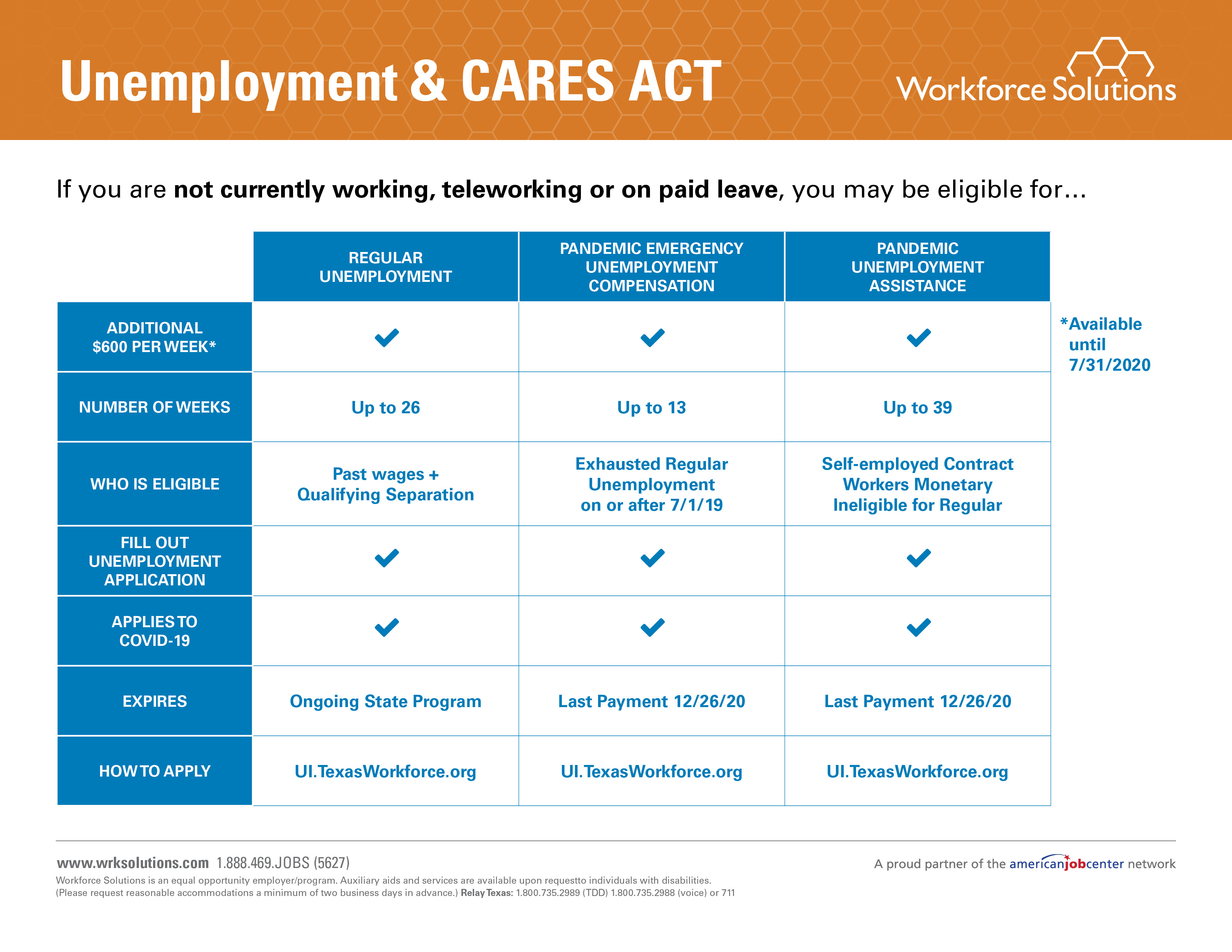 Unemployment Benefits
Workforce Solutions can show you how to file for Unemployment Insurance (UI), but it's the Texas Workforce Commission (TWC) in Austin that handles your claim or benefits. This page will show you how to contact TWC to file a claim, check the status of a claim and your benefits, and more.
COVID-19 Note: We apologize for any difficulty you may have getting through to submit a claim. The Texas Workforce Commission is experiencing an unprecedented number of claims and is making continual changes to keep up with the current demand by adding more staff and increasing both phone lines and computer server capacity.
The best way to apply is online at ui.texasworkforce.org. You will experience fewer delays on the web application during the overnight hours, especially midnight to 5 am.
Effective Monday, April 13, 2020, Tele-Center hours have been expanded to 7 am to 7 pm daily including Sundays.
TWC encourages you to continue trying.
Effective November 1, 2020, TWC is resuming work search requirements for individuals receiving unemployment insurance (UI).
---
How to File a New Claim
In order to qualify for Unemployment Insurance, an individual should be separated from their job through no fault of their own, be available for work, and be actively seeking work.
To apply for benefits, you will need:
Last employer's business name and address
First and last dates (month, day and year) you worked for your last employer
Number of hours worked and pay rate if you worked this week (including Sunday)
Information related to your normal wage
Alien Registration Number (if not a U.S. citizen or national)
Note: If this is your first unemployment claim, you do not need to already have a PIN or reset your PIN before you apply. You will set up your PIN during the application process.
Online
The fastest and easiest way to apply for your Unemployment Insurance (UI) benefits is online with the Texas Workforce Commission (TWC). You can file anytime, day or night. If you're eligible, expect your claim to begin the Sunday of the week you submit your application.
To apply, click on Unemployment Insurance. You will find instructions and applications in both English and Spanish.
The UI Web site is user-friendly and has an online glossary, a frequently asked questions page, and information in both English and Spanish. After filing your application, WorkInTexas.com - the state's job bank - automatically launches to give you the added convenience of beginning your job search immediately.

You must be registered in WorkInTexas.com, so remember to take the time and completely fill out the online job application and resume. The more information you provide, the easier it will be for you to find a good job quickly!

The TWC online UI benefits application is for regular, initial claims only.
By Phone
If you don't have computer access or you decide to file by phone, you can call a UI Tele-Center toll free at 1-800-939-6631.

COVID-19 Note:

There are apps advertising they assist with the unemployment process; however, these are not official TWC channels and will not establish an unemployment claim. TWC will NOT process or accept any applications for UI benefits from third-party sources.
TWC is experiencing a lower volume for online applications between 10 p.m. and 6 a.m. You may want to try back during those hours to file your claim or check the status of your claim.
---
How to Request a Payment
If you have an active UI claim, you can request a benefits payment by phone or online. You will need:
Your earnings amount for each week (if applicable)
Your work search activities for each week
To Request Unemployment Benefits Payments Online: Log on to Unemployment Benefits Services. To Request a Payment by Phone: After your unemployment claim is on file, call Tele-Serv toll free at 1-800-558-8321.
WHEN TO CALL: Sunday 8 a.m. - 6 p.m. and Monday - Wednesday 7 a.m. - 6 p.m.
If you miss your assigned day, call Thursday or Friday 7 a.m. - 6 p.m.
Individuals needing telecommunications devices for the deaf (TDD) can communicate with TWC-UI offices by using Relay Texas. Those numbers are 1-800-735-2989 (TDD) or 1-800-735-2988 (Voice)

Don't wait for a determination to request your payment. You should request payment one to two weeks after you first apply for benefits and every two weeks after that. You can find the date you are scheduled to request payment on your Unemployment Benefits Services (UBS) account or by calling Tele-Serv.


---
How to Manage and Review Your Claim
Review status of claim and payments.
Online - You can check the status of your claim and payments on the Internet. Log on to

Claim and Payment Status

and review the last payment or a history of payments on your claim.



Over the Phone - You can hear the status of your claim and payments by calling Tele-Serv at 1-800-558-8321 and selecting option 2.




Reset PIN.
Online - If you forget your password or User ID, the Logon page has quick links for you to retrieve your User ID or reset your password. To reset your password, you will need to answer security questions that you set up when you created your User ID. Keep your answers to the security questions private, just like your password.

Over the Phone - You can reset your PIN by calling Tele-Serv at 1-800-558-8321 and providing personal information from your claim, such as your date of birth, Texas driver license or ID number, telephone number, amount of your last benefit payment, or part of your bank/credit union account number. You must be able to provide the requested information to reset your PIN using Tele-Serv. If you are unable to provide it, you may either call back when you have the information or call a Tele-Center at 800-939-6631 to speak with a customer service representative.


Change Address.
You can change your UI address using the Internet. Log on to Payment Request and click on the "Change Address" option.


Get answers to questions (benefits, eligibility, appeals).
Many questions about filing for benefits, qualifying requirements, appeals, and eligibility can be answered by reading the Unemployment Insurance Benefits Handbook (PDF) and the UI information available on the Internet.


Call during off-peak times. If none of these resources answer your questions, continue calling the TWC UI Tele-Serv at 1-800-558-8321. The best time to call is the end of the week. Tele-Center lines are busier early in the week.
---
COVID-19 Specific Resources
Note: All information regarding Coronavirus 2019 (COVID-19) is subject to change at any time due to the changing nature of the pandemic. Please revisit this section regularly for updates.
Effective November 1, 2020, TWC is resuming work search requirements for individuals receiving unemployment insurance (UI).
Effective June 30, 2020, TWC pauses reinstatement of work search requirements for individuals receiving unemployment insurance (UI).
TWC announces that Texas has triggered an Extension Period for Unemployment Benefits.
TWC announces that State Unemployment Benefits continue but $600 Federal Payment Ends July 25.
Return to Work: TWC offers guidance to unemployment claimants concerning how a refusal to accept rehire may impact their continued eligibility for unemployment benefits. June 22, 2020, TWC provides acceptable reasons for work refusal.

Caution Regarding Fraudulent Calls: TWC advises those applying for Unemployment Insurance benefits that individuals misrepresenting TWC may capitalize on the uncertainty surrounding COVID-19 and attempt to secure sensitive, personal information through deceit.

If your employment has been affected by the coronavirus (COVID-19), you may apply for UI benefits. TWC will investigate why you lost your job or why your hours were reduced and mail a decision explaining whether you are eligible for unemployment benefits.

What you need to know about the Coronavirus Aid, Relief, and Economic Security (CARES) Act
If you are self-employed, a contract worker, or previously worked in a position that did not report wages, you may qualify for unemployment. If you applied for unemployment benefits but lacked the necessary wages to qualify, no action is needed. TWC will determine if you qualify under the new stimulus bill and notify you by mail or electronic correspondence of your eligibility.

TWC encourages those who have not yet applied for Pandemic Unemployment Assistance (PUA) as a result of COVID-19 to apply now. When applying, individuals affected by the pandemic should indicate that as the reason they lost their job. Pandemic Unemployment Assistance provides up to 39 weeks of unemployment benefits for persons impacted by COVID-19 and covers individuals who are self-employed, who otherwise would not qualify for regular unemployment compensation, or who have exhausted state benefits.

Unemployment guidance for self-employed, contract, and gig workers: TWC advises self-employed, contract, and gig workers who have lost work due to the COVID-19 pandemic to apply for Pandemic Unemployment Assistance (PUA).

Unemployment Insurance Benefits Extensions: no action is needed by those claimants who may have recently exhausted, or will soon exhaust, their Unemployment Insurance (UI). TWC will determine if you qualify for additional benefits under any of the pandemic unemployment programs and notify you by mail or electronic correspondence. We encourage you to make sure your address and email are up to date with TWC so that we can reach you.

FAQ's for Laid-off Teachers and other Education Employees


---
"How To" Guides
All files listed in this section require Adobe Reader unless noted otherwise.
---
School Meals for Children of UI Claimants

The National School Lunch and School Breakfast Programs provide school meals to all children. These nutrition programs are a much needed resource to families facing unemployment due to the current economic situation. To see if your children are eligible to receive free or reduced price meals under these programs, check School Meals Income Guidelines.